Floor guide

We provide guest sleep in a clean facility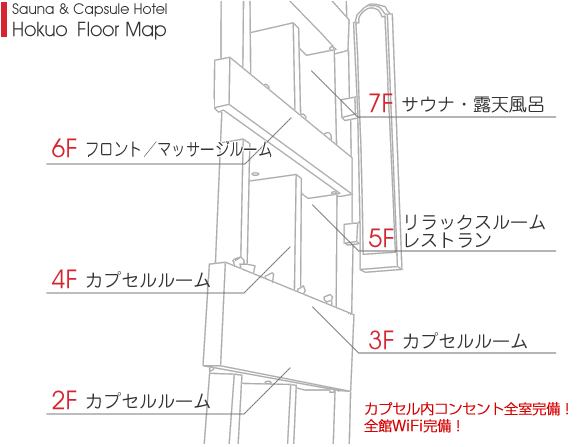 7F, sauna / outdoor bath

A sauna is available for a small break.
sauna, relaxation time of the customer is supported with a relaxed reclining seat with LCD TV set for each seat in each seat.
Of course you can also use the restaurant.

"I will soak in the bath and drink a cup after going home and go home. It's very luxurious! Would you like to see such a luxury ???"

As time also varies according to customers, you can use it in your favorite time zone, that is the sauna plan.

※Note
Currently, due to the influence of the coronavirus, the sauna is open from 12:00 to 23:00 by reservation only.
It is available without reservation only from 5:00 to 10:00 in the morning.

※No reservation is required for capsule guests.From 12:00 noon to 10:00 the next morning, you can use the sauna as many times as you like (midnight or early morning).

7F Akasuri ※Currently closed

Dedicated staff kindly and carefully provide the home-made scallops.(Japanese OK)
Drops old horny and waste products, enhances relaxation effect such as promotion of metabolism and recovery from fatigue.
After bean sprout, you have cold beer at the 5th restaurant?
, Please try.

course A 30 minutes ¥ 3,700
(Briskness+Body shampoo+Shampooing)
B course 45 minutes ¥ 6,000
(A course + body care with salt or oil)
C course 60 minutes ¥ 8,200
(Course B+Steamed towel care+facial)
S course 80 minutes ¥ 11,100
(Briskness+Whole body beauty+facial)

Business hours 14:00 to 22:00(Closed on Mondays and Tuesdays)

6F, front desk

This is the reception of our Sauna And Capstule Hotel Hokuo!

We will try to keep customers checking in and checking out smoothly.
We do charge rental of charger here and we keep your valuables and luggage.
We also sell underwear, socks, Y-shirts and contact preservatives.
Please talk about anything such as questions about facilities in the facility.

WiFi in the whole building
Free PC in the facility, 3 fully equipped (front desk, 3F, 4F)

6F, Massage room

"Popular massage at an affordable price!"

We are pleased to inform you the best relaxation at our affordable price to our customers.
You can use it with a plan that matches your tiredness such as whole body massage and foot massage.

You can rest assured that we will thoroughly massage the coronavirus infection prevention measures.

Body care massage 30 minutes course···¥ 3,000
60 minutes course···¥ 5,900
90 minutes course···¥ 8,200
Foot pot 20 minutes course···¥ 2,300
Set (body & foot pot) course 60 minutes course···¥ 5,900
Body care business hours 13:00 to 23:00(Last reception 22:00)
You can nominate all of the above.
In that case a nomination fee of 200 yen will be charged separately.

5F, Relaxing Room

I made a quieter space than before.

The reclining seats are equipped with LCD TVs in all seats, so you can see it without worrying about your favorite channel.
You can drink tea at will (free of charge).
Relax in the new space.
In addition, it is non smoking in all seats.In smoking, please use smoking room.

5F restaurant ※From 7:00 to 23:00(Last order 22:30)

※Note Currently, it is from 7:00 to 23:00 (last order 22:30) due to coronavirus countermeasures.

"Satisfied with drinking! Full of dishes!"
The hotel has a restaurant in the 5th floor and we are preparing Northern European cuisine from common dishes.
For sake, beer and shochu are commonplace, sake (sake) and wine are also available, and there are also bottle keeps of whiskey & shochu, so I think that you can use it for those staying for a long period of time.

There are also menus such as set meals and lunch, time-adapted menu, recommended item (blackboard menu), etc.
I think that you are sure to be satisfied with the person who likes alcohol, people who are hungry, so please use the 5F restaurant when using.

After work···After drinking party···For a cup before going to bed ....

4F, Laundromat

There is a coin-operated laundrette in the 4th floor.
Washing machine 1 time 200 yen
Dryer 30 minutes 100 yen

From detergent 50 yen, we sell at front desk.

2 to 4F, Capsule Room

We provide guest sleep in clean facility.

Approximately 200 capsule rooms in our hotel 2F - 4F are made one size wider than ordinary capsules, so we can relax relaxedly with the bigger one. Inside the capsule, TV, as well as alarm clock and charging outlet are equipped.

On the capsule room floor there are lockers for customers, powder rooms and juice vending machines, and customers who smoke cigarettes also have a smoking place to relax.

"Please have a relaxing break with a spacious floor, clean and quiet space."


Inside the capsule all the rooms are equipped!
Whole building WiFi equipped!

Number of rooms

198 rooms in total:Western-style room 198 rooms

Standard room facilities

Television / satellite broadcasting

Internet related

Free WiFi in the whole building

[PC rental]No

Amenities

Face towel / bath towel / toothbrush / shave / shampoo / rinse / body soap / soap / indoor wear / hair dryer / hairdresser / shower toilet / cotton swab / comb·brush

Service & Leisure (including arrangement)

Massage(Toll)

Credit cards available locally

JCB / Visa / Master / AMEX / DC

Standard check-in time

15:00

Standard checkout time

10:00
| | |
| --- | --- |
| Other bath facilities | sauna |